December's the time of year that bloggers, especially athlete bloggers, start writing "Year in Review" posts, chronicling their achievements on a monthly basis. I did that in
2012
, and it just turned into an exhaustive list of racing (and
summiting Mt. Kilimanjaro
!). In 2013, I couldn't even bring myself to write such a thing again. But for 2014, I do want to give a shout-out to some of the awesome things that happened, but just not in a blow-by-blow sort of way. If you want that, check out my
Schedule & Results page
for race details. Instead, I'm going to go all "By The Numbers" on the blog, except I'm not quite sure which newspaper/magazine pioneered this concept, therefore I have no attribution other than I didn't think up this idea myself. So! I now present to you:
Full video here: http://vimeo.com/channels/cowboytough2014/101321407
0:
times I've fallen out of a canoe this year.
Early on in the OT100MTB. Photo by Stacey Hagen.
3:
mountain bike hundo's raced in 2014. Top 10 in each of them (8th -
Cohutta
, 7th -
Mohican
, 2nd - OT100MTB...race report not written yet).
5th:
place for team
Alpine Shop
at USARA Adventure Racing National Championships in October (race report not written yet). A race that showed me the real meaning of teamwork, and how deeply committed each of us are to the team's success.
http://instagram.com/p/uEJB4Qq7S-/
7:
laps of Council Bluff I rode consecutively at
Burnin at the Bluff
in October to set a new women's 12hr solo record.
http://instagram.com/p/kVn0cEq7RP/
8:
pairs of shoes I went through in January/February trying to find something to work with my weird feet:
Hoka Stinson M7.5, Hoka Stinson W8, Altra Lone Peak M8, Brooks Cascadia M7.5, Brooks Cascadia W9, Salomon Mission M8, Salomon Mission M7.5, Altra Superior M7.5. Plus 2 types of insoles: Superfeet Orange and Superfeet Berry. Luckily, with the help of Certified Pedorthist Angie Bono at Alpine Shop, we found a combo that kept my feet happy for the whole year (Brooks Cascadia M7.5 + Superfeet Orange insole).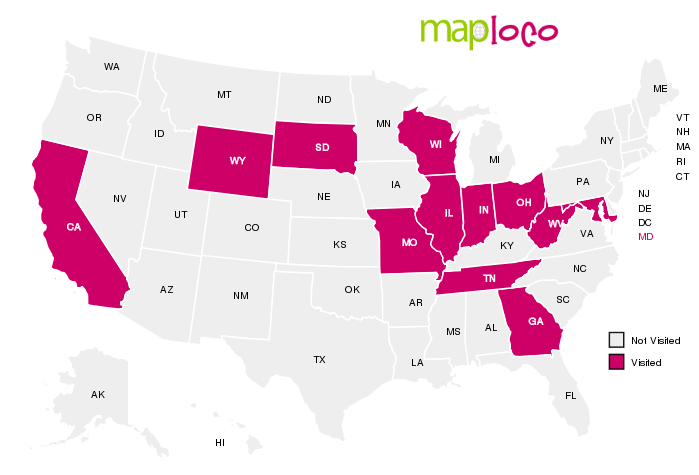 Create Your Own Adventure Race Map
12:
states I've raced in this year. Missouri, Indiana, Illinois, California, Tennessee, Georgia, West Virginia, Ohio, Wisconsin, Wyoming, South Dakota, and Maryland.
Jeff, me, Doug, David at the Bonk Hard Chill.
Jason, Kyle, Garret, Abby, me at the BAAR Brawl. Photo by Aaron Johnson.
https://www.facebook.com/photo.php?fbid=10100960628245093&set=pcb.627737533941129
Mark, me, Andy, Shane at Wild Wonderful...before Mark impaled himself.
Andrei, Mike, Rachel, and me at the finish of Cowboy Tough.
me, David, Erl, Jeff at the finish of Castlewood 8hr
14:
teammates I've raced with this year. Jeff Sona, David Frei, Mike Garrison, Rachel Furman, Kyle Peter, Garret Bean, Abby Broughton, Jason Popilsky, Doug Nishimura, Mark Lattanzi, Andy Bacon, Shane Hagerman, Andrei Karpov, Scott Erlandson. Proud to say I'd race with any one of them again in a heartbeat.
Start of the Wild Wonderful AR.
https://www.facebook.com/ACE.AdventureResort.WestVirginiaVacations/photos/t.3101348/10152212436629748
15:
adventure races I started and finished, totaling roughly 233 hours. This is counting
Cowboy Tough
as 4 individual races, given the stage race format and massive amount of sleep we got.
Jerks. All of us.
The view from above, courtesy Lawman.
20:
roughly the number of jerks who drank beers in the Black River for MFXC
The Karkness
. The most fun non-race weekend of 2014.
215# DL PR - April 2014.
jump squat at 45# - December 2014.
55:
sessions at
Project Deliverance
. The secret to my durability this year. PRs (at an average body weight of 135#): deadlift 215#, back squat 155#, front squat 135#, power clean 105#, split jerk 95#, overhead squat 75#.
Andrei, me, Garrison, Rachel at the Stubborn Mule 30hr.
72:
checkpoints at my favorite event of 2014 - the
Stubborn Mule 30hr Adventure Race
in Wisconsin, hosted by 180 Adventures. And, perhaps more incredibly, each checkpoint was hung correctly and none were missing. Super kudos to Paula the race director and her team!! The Stubborn Mule also had the most beautiful paddle of 2014 on the Wisconsin River (narrowly edging out paddling on the Gasconade River in Missouri at the 2014
Bonk Hard Berryman Adventure Race
).
http://www.ar.attackpoint.org/viewlog.jsp/user_9015/period-365/enddate-2014-12-31
889 hours, 8 minutes, and 34 seconds:
duration of training and racing I've logged in
AttackPoint
for 2014. Biggest volume year of my life. If you divide this among the 50 active weeks I've had (taking these final 2 weeks of the year off for resting), that comes out to an average training week of 17hrs45min.
https://www.facebook.com/teamnoahracing/photos/a.292318730932334.1073741826.117663505064525/292316817599192
$2,195.00:
dollars raised for
Team Noah Foundation
from my
birthday party in January
. We used the money raised to donate a ton of heart pillows to the Dallas Heart Center at Cardinal Glennon Children's Hospital in St. Louis. Wondering what we're up to for 2015? Stay
tuned
for details!
One of the many beautiful moments Noah has given us.
Pin It